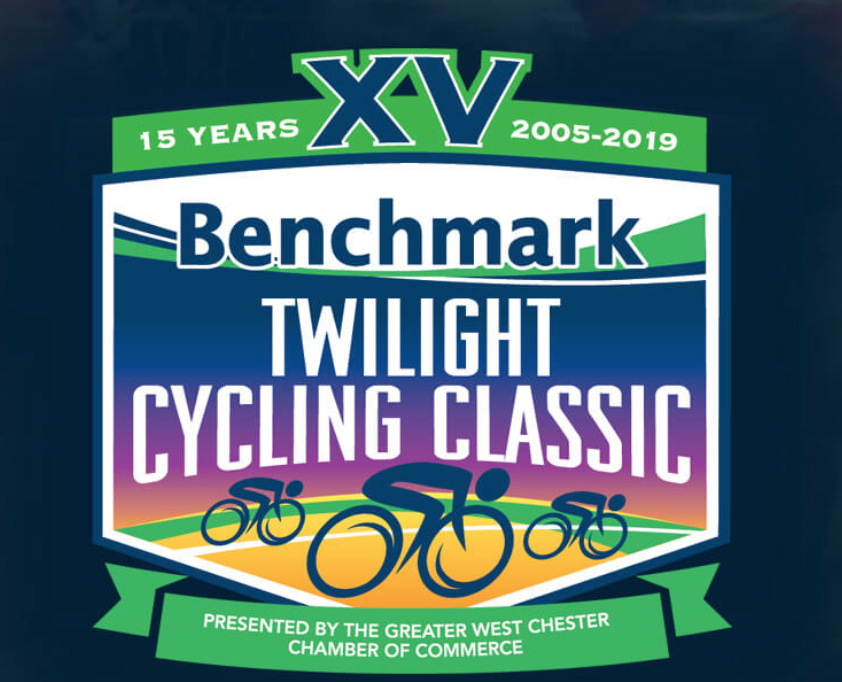 Benchmark Twilight Cycling Classic
Saturday, August 10, 2019 (rain or shine)
West Chester, Pennsylvania
---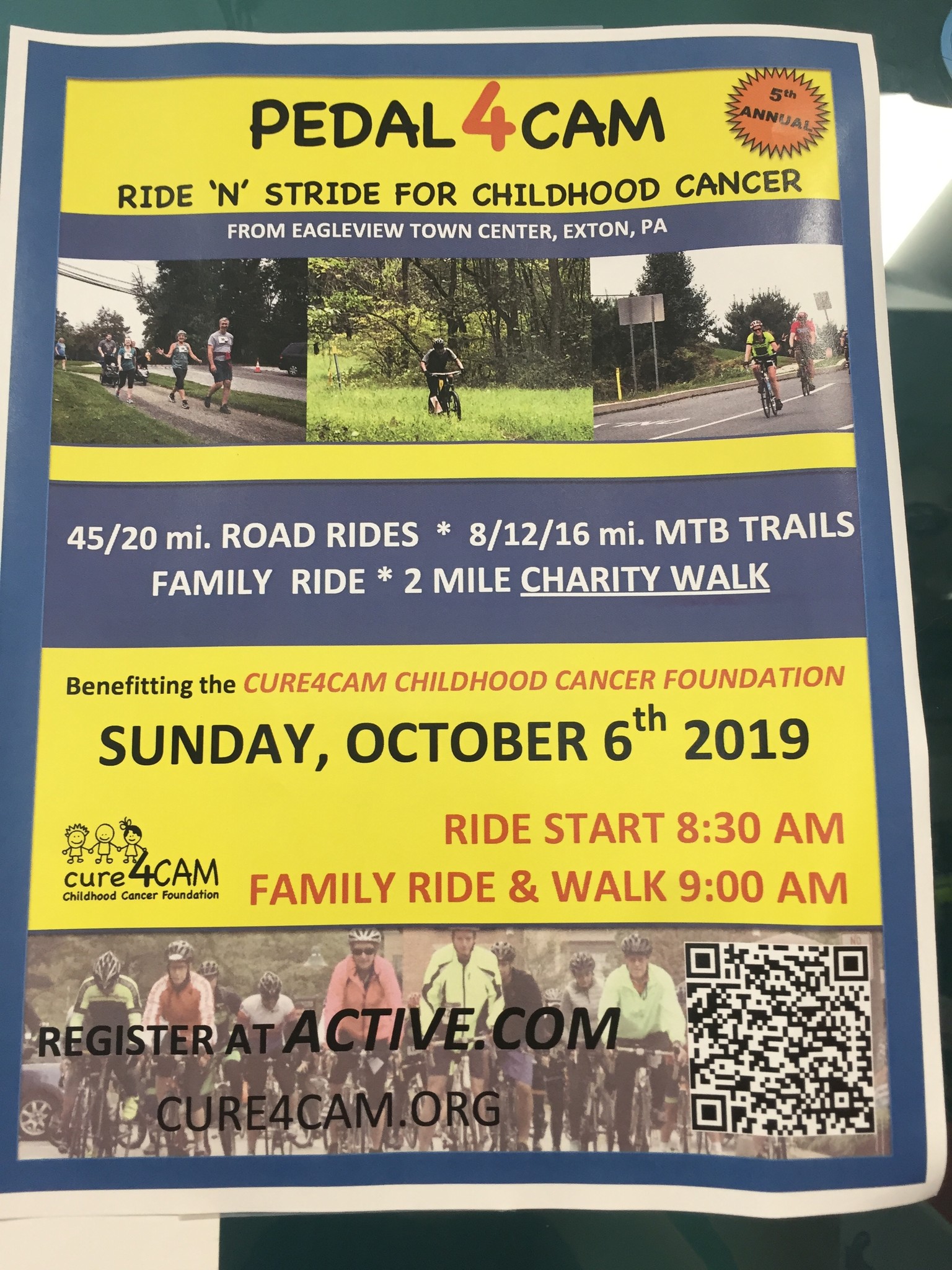 November 9th, 2019
This Run's Personal is a chip-timed 5K run and 1-mile walk through the beautiful streets of Downingtown, PA. One of Team CMMD's biggest fundraising events, it is great for the whole family, with kids from the Team CMMD In Training program running the 5K and supporters of all ages walking the mile!
Thanks to the runners and generous sponsors who participate, we raise over $60,000 at this event annually to fund our family assistance, scholarship, and community outreach programs. Patients often have reduced work hours and fall short on bill payments while struggling to maintain income during their treatment time. Other patients accrue transportation or lodging expenses throughout their care. Generosity from community supporters such as yourself make it possible for these expenses to be paid by the Team CMMD Foundation. Then our friends, family, and loved ones in our community can focus on their cancer journey.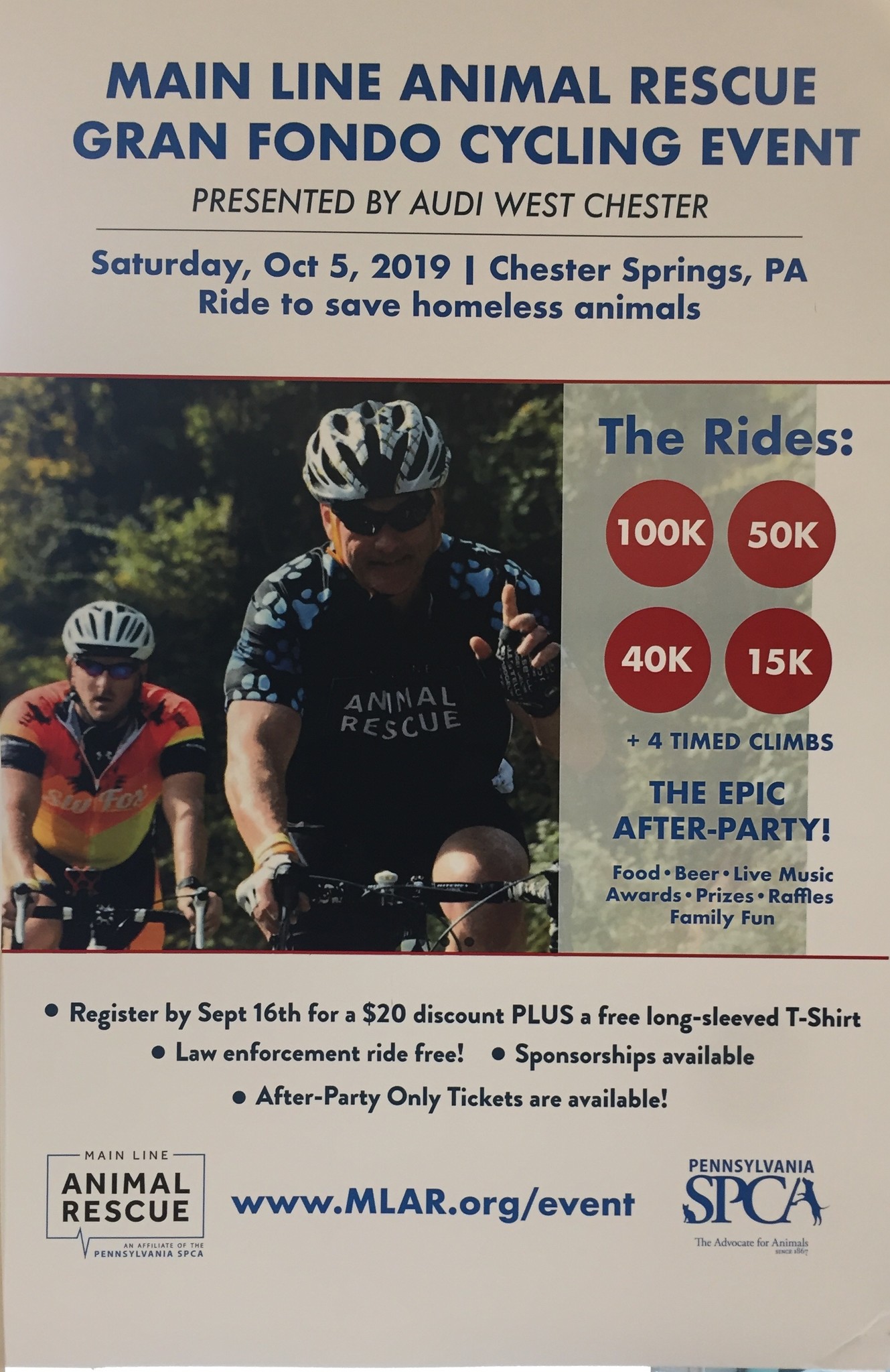 Our 4th annual Gran Fondo Cycling Event presented by Audi West Chester is gearing up to hit the country roads of Chester County on Saturday, October 5th 2019. This renown cycling event provides the community with a great day at the farm, bringing together cyclists of all skill levels and their families from near and far to enjoy a picturesque ride through the Chester County countryside. The ride starts and finishes at Pickering Meade Farm and concludes with a fabulous after-party featuring a beer garden, food, raffles, awards ceremony, a live band, adoptable animals, and more. 
_________________________________________________________________________________________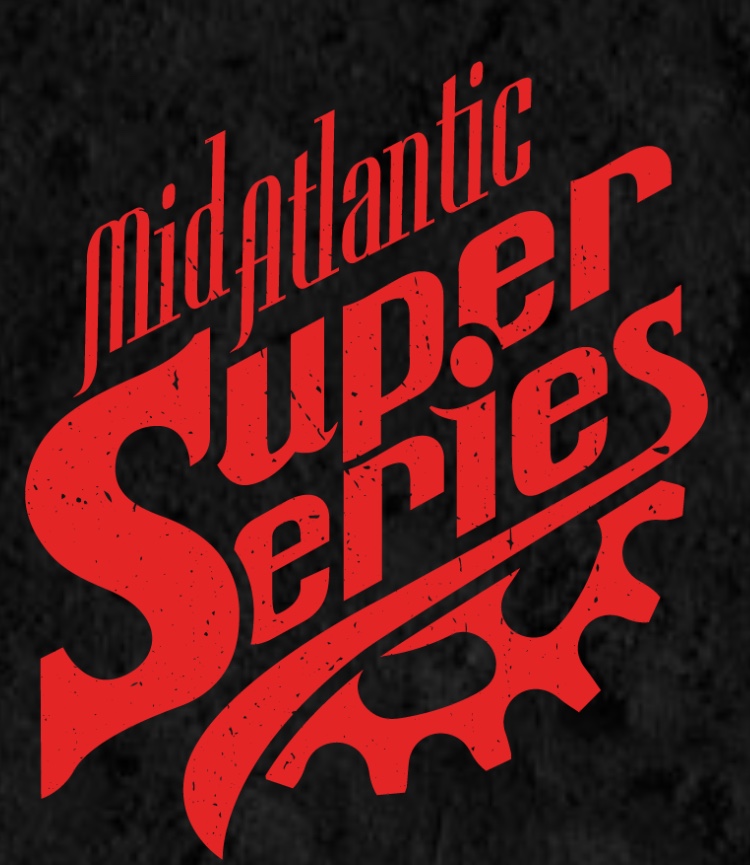 "The Mid-Atlantic Super Series (M.A.S.S.) is the premier mountain bike race series in the Mid-Atlantic region. The M.A.S.S. is a cooperative effort by M.A.S.S. directors, race promoters and team directors to link together many great races into season-long individual and team competitions.
The goal of the M.A.S.S. has always been to provide a competitive as well as a fun and festive race atmosphere. The M.A.S.S. has something for everyone. From the Elite Open class pitting the best racers of all ages against each other for substantial cash prizes to beginner junior classes for young racers. 
A big part of the M.A.S.S. is the team competition. The team competition is broken into Open, Grassroots, Endurance and Enduro team divisions and at the end of the season team awards are presented to the top 3 teams (1 for Enduro) in each division. Many racers are more concerned with their teams placing than they are their individual series standings.

The M.A.S.S. race courses are some of the best in the country and vary greatly from fast, flowy singletrack to tight, technical rocks and roots to big mountain climbs to twisty, sandy south Jersey style riding.  Our promoters spend countless hours preparing, maintaining and marking our courses to deliver a high-quality mountain bike racing experience for riders of all abilities and strengths.  Many of our promoters dedicate part of their race proceeds benefit charitable organizations.  We believe in giving back to our communitees and leaving our trails better than we found them.
At the end of the season the M.A.S.S holds a huge awards ceremony at our final races for each series. Last year the M.A.S.S. awarded over $5,000 in end of season awards and that included over 35 series champion jerseys, 100+ trophies and 12 team cup plaques."
_______________________________________________________________________________________
FREE SCOOTER CLINIC @ DOWNINGTOWN SKATEPARK
Starting Saturday 4/27/19
Location: Downingtown Skate Park (Kerr Park)
When: Saturdays
Level: Entry Level to Beginner
Ages 5 and up
Time: 9:00am-9:30am  
Board/Scooter and Helmet required
Weather Permitting
For up-to-date skate clinic information, please visit our facebook page
_________________________________________________________
_______________________________________________________________________________________